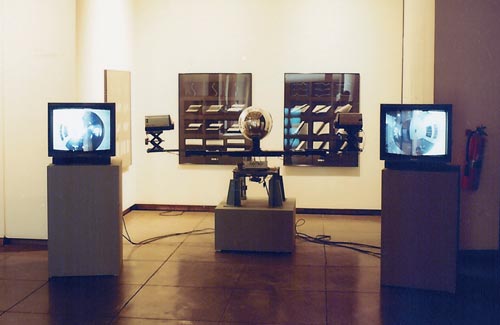 ALLVISION
1976
AN ELECTRO/OPTO/MECHANICAL ENVIRONMENT BY STEINA
ALLVISION incorporates and transforms physical space through video. In this installation, Steina transfigures the viewer's orientation: a constructed physical space is engaged in conversation with the perceptual systems of the human eye and the camera lens.
ALLVISION poses questions about the process of transcribing all-encompassing space and the ways in which perception can be altered or exaggerated by a mechanical interface.The machine allows a view of what would otherwise be impossible to perceive; it privileges vision to experience the implausible and fantastic.
— MARITA STURKEN
D E S C R I P T I O N
A mirrored sphere, positioned in the middle of a crossbar reflects the image of surrounding space. Two video cameras, attached to each end of the crossbar are looking in at the mirrored surface. The crossbar — now an assembly of mirrored sphere and two cameras — slowly rotates on the turntable with cameras orbiting the sphere. Since each camera sees half of the reflected space, the whole space becomes observable.
The turntable, which sits on a low pedestal, holds the driving mechanism for the rotation — a slip-ring assembly and a DC motor. The slip-ring assembly provides uninterrupted video signals from, and power to, the cameras. The video signal from two cameras connects to two (or more monitors) arranged in the exhibit space.